Home » Anti-counterfeiting labels
What are anti-counterfeiting labels ?
Anti-counterfeiting labels are manufactured using special self-adhesive self-destructing materials with various shapes by different anti-counterfeiting technologies. They will be affixed directly to the product or product packaging to limit counterfeiting. They will be destroyed after being peeled off, the pattern "VOID, Honeycomb or Customized message" will be visible on their previously pasted location. Because anti-counterfeiting materials help protect valuable documents, and help them resist unauthorized access. This gives your customers confidence that the product or important documents are genuine.
Why use anti-counterfeiting labels ?
Today, products are more sophisticatedly counterfeited, thus causing significant damage to users and businesses. To protect the business brand and the benefits of users, businesses have chosen to put anti-counterfeiting labels on their products. Anti-counterfeiting labels are often used in the sealing of boxes, tubes, cans, bags … to minimize the risk of product counterfeiting.
Benefits of anti-counterfeiting labels
– For Businesses
Anti-counterfeiting labels are a useful tool in anti-counterfeiting to protect the reputation and brand of the business and to make it easier to manage the products of the business at a low cost.

Build consumer trust with business. When anti-counterfeiting labels are properly used on corporate products, consumers can rest assured when choosing genuine products and do not have to worry about buying fake products. Thereby contributing to increasing consumer confidence when choosing corporate products.

Boost sales revenue. Anti-counterfeiting labels also help create accents for business products. Therefore, supporting businesses to promote, build brands and product images. And they can also help businesses support consumer promotions.

Seal the goods. Anti-counterfeiting labels can also be used as a product seal. They can be affixed directly to the product or packaging at the sealing location to help prevent fraudulent attempts to swap counterfeits.
– For consumers
Reduce the risk of buying counterfeit goods and create a sense of security when shopping.

Easy to identify genuine products. Anti-counterfeiting labels can help consumers easily identify genuine products through security features on them with naked-eye or using tools.

Consumer rights and health are protected.

Can traceability, promotion, warranty activation of the product, etc.
Good anti-counterfeiting labels are used by many businesses
The most popular anti-counterfeiting labels
Depending on the field and product, each business will choose to use different types of anti-counterfeiting labels. However, hologram, SMS and QR code anti-counterfeiting labels are the best used by businesses. If you want to know which labels are suitable for your business, you can learn more about good anti-counterfeiting labels such as:
1. Hologram anti-counterfeiting label
Hologram anti-counterfeit labels are made of 7 color hologram material. They will change different sparkling colors under different viewing angles. They are not only used to prevent counterfeiting, but also to create accents for the product. When the hologram labels are removed from the product or product packaging, they will be destroyed and not intact. This type of anti-counterfeiting label is often used on packaging of pharmaceuticals, pesticides, paints, etc. to seal products, protect business brands as well as consumer's benefits. They can integrate many anti-counterfeiting technologies: authentication by SMS call center systems, QR code anti-counterfeiting, traceability, etc.
2. SMS anti-counterfeiting label
Anti-counterfeiting sms labels are made of holographic material, breakable paper. On each label, there isa code beneath scratch panel and a text message printed on it. In addition to using them for anti-counterfeiting by SMS authentication, they are very suitable for product sealing. On the labels, there will often be an integrated jump serial number to support warehouse management, promotions, remote warranty activation, etc.
3. QR code anti-counterfeit label
QR code anti-counterfeiting labels are manufactured using hologram labels or breakable paper. Each QR code label has a unique code created by an algorithm confirming the uniqueness of the label. They are used to seal goods for anti-counterfeiting and help trace the origin of products through scanning QR codes.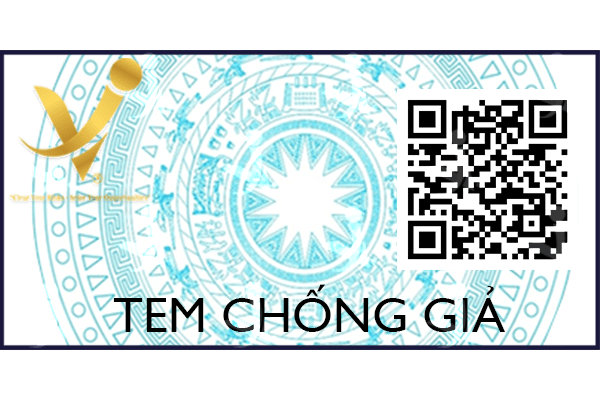 4. Water technology anti-counterfeiting label
Water technology anti-counterfeiting labels are made from breakable paper. They will break when removed from the product and will show the words "Real goods", "Genuine goods" when we use water to apply it at the specified location to apply water.
5. Thermal technology anti-counterfeiting label
Thermal technology anti-counterfeiting labels are are manufactured using various materials such as breakable paper, conventional paper, metal decals, hologram labels, etc. When using, you just need to heat the label and observe the change of the ingredients on the label. Anti-counterfeiting components on it such as color, logo, brand, word "GENUINE" will change from the original. And after cooling, the label will return to its original state.
6. Anti-counterfeit label with luminous technology
Anti-counterfeiting labels with luminous technology are made from 7-color holograms, breakable paper, conventional paper, etc. They are printed with a special ink that glows when the ultraviolet light shines on it. The anti-counterfeiting elements on the label will glow when illuminated with ultraviolet (UV) light such as the logo, the word "GENUINE GENUINE", " ANTI-COUNTERFEIT LABEL " or depending on design of the business. Usually, they will be integrated with other anti-counterfeiting technologies to enhance security for labels such as authentication by sms call center, QR code anti-counterfeiting , traceability, identification by water, heat, etc.
7. Anti-counterfeiting label of the Ministry of Police

A sample label still labeled the Ministry of Public Security
Anti-counterfeiting labels of the Ministry of Public Security are manufactured by breakable paper. This type of label has been researched and provided by the Institute of Criminal Science of the Ministry of Public Security for businesses to make anti-counterfeiting labels. The printing and supply of this anti-counterfeiting label is carried out by the Institute in the form of directly contracting and supplying.
They have a combination of technologies into each label such as printing technology with luminous ink or UV ink (allowing to show the hidden security symbol when exposed to ultraviolet light). The labels have the words "Institute of Criminal Science – Ministry of Public Security" so that businesses can stick them on their products legally manufactured or imported into Viet Nam.
However, according to the announcement of the Ministry of Public Security, from February 1, 2017, the Institute of Criminal Science stopped researching and signed contracts to provide anti-counterfeiting labels to businesses. Thus, since February 2017, there are no more anti-counterfeit police labels on the market.
Notice of anti-counterfeiting labels Ministry of Public Security to stop issuing
What's difference about anti-counterfeiting labels developed by Tin Dan?
Tin Dan's anti-counterfeiting label designs are applied with advanced e-beam hologram technology and the highest security. The designs also guarantee the exclusive use of the hologram design by the client. And no 3rd party in the IHMA Association (International Hologram Manufacturers Association) is allowed to use such design or design similar to the customer's design to produce and supply anti-counterfeiting labels.
At the moment, Tin Dan "TDN" is the only Vietnamese company that has been certified as an IHMA member based in London. We also provide labels with integrated SMS, QR code, and custom programs on request. In particular, anti-counterfeiting labels are very popular with many businesses because it has all the advantages of hologram labels using e-beam holograms and prevents reuse of labels by any way of heat impact.
After many years of being trusted by domestic and foreign businesses, we have constantly improved and innovated to produce typical anti-counterfeiting labels such as: