Home » Bottle Filling And Capping Line » Food Filling Line » 3 in 1 bottle filling machine
3 in 1 bottle filling and capping machine
3 in 1 filling machine (automatic mineral water filling machine, bottle filling and capping machine) mainly used for water filling operations.
This filling machine integrates 3 machines into 1 complete filling line, so it is also called 3 in 1 filling machine.
It includes three functions of bottle rinsing, filling and capping. All filling process is fully automatic.
With the improved quantitative filling and bottling system from the Korean factory, it is possible to easily fill accurately, fill a variety of bottles with fast filling speed and high stability.
The famous brand of programmable controller (PLC) is used to control the automatic operation of the machine.
The 3-in-1 bottle filling and capping machine is the ideal equipment for beverage, mineral water, purified water manufacturers.
Uses a unique design to prevent the bottle from getting dirty during the rinsing process.
The bottle washing machine is made of 304 stainless steel.
The high-pressure water nozzle discharges into the bottle to clean the entire inner walls of the bottle, saving bottle water.
The bottle clamping system and the tipping device use a robust and maintenance-free German IGUS support shaft.
Using the principle of gravity filling.
Filling nozzle is made of stainless steel 304/316.
Extremely high filling accuracy and speed.
The pouring operation mechanism is based on the principle of rotary thanks to the gear transmission.
Hydraulic cylinder is made of filling method.
Automatic test, no bottle no cap.
The bottle capping head is made of 304/316 stainless steel.
Stop working when the bottle is missing.
Principle of high efficiency centrifugation.
Smart touch screen, custom design, easy to operate.
High speed filling head to avoid dripping and leakage, low error, high precision.
The programmable controller (PLC) makes it easy to resize or modify parameters.
The components are all famous brands with high stability.
Automatic photoelectric sensor ensures bottle shortage.
Pneumatic control valve, high efficiency and safety.
Tight positioning design, easy to operate, suitable for packing bottles of different sizes.
The machine is designed according to your requirements.
Filling products: Spring water, mineral water, purified water, alcoholic beverages and non-gas liquid products.
Production capacity (500ml): 1,000 – 25,0000 products/hour (depending on the number of faucets and volume).
Accuracy: ≤±3 mm (liquid level dosing).
Ambient temperature: 10 ~ 40℃.
Bottle volume: 100 – 2500ml.
Diameter: 50 – 110 φ.
Bottle height: 150 ~ 350mm.
Machine material: Stainless steel 304 and 316.
Gas pressure: 0.5 – 0.6 mpa.
Control system: SIEMENS PLC + touch screen.
Voltage: 220V ~ 4150V, 3 phase, 50HZ/60HZ.
Dimensions: 2900mm (length) – 2100mm (width) – 2400mm (height).
Certificate: CE / SGS / ISO 9001.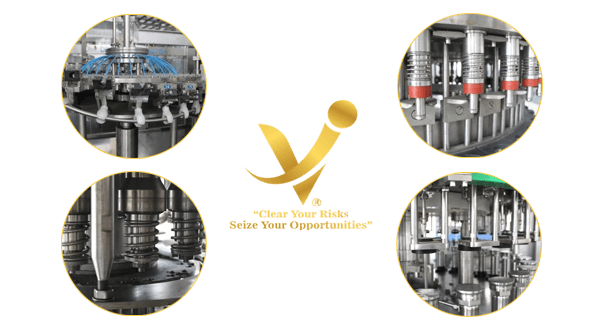 Tin Dan, the leading supplier of imported production machines in Vietnam
Hundreds of businesses have chosen Tin Dan as their own machinery supplier. So what's so special about us ?
Tin Dan is very proud of the quality of our equipment. We always provide the best and most modern

labeling machines

, anti-counterfeiting labels, filling machines imported from Korea for hundreds of large and small businesses over the past 10 years.

At Tin Dan, all employees and working processes are directed towards the common goal of ensuring the best quality of equipment in Vietnam.

We have an experienced and dedicated technical team, so every business that comes to Tin Dan will receive dedicated advice and thoughtful installation support from the first step to the handover of equipment.

Constantly updating information about the latest labeling machines, anti-counterfeiting stamps, automatic filling machines on the domestic and foreign markets.
Tin Dan is always ready to advise and support the most suitable machine for your business process. Please contact us via Hotline: 090 383 5500 – Ms. Violet to maximize your business productivity today.